This must be taken into account when staining the terrace
– The most important thing is that it is clean, firm and dry before you start staining, says Eirik at Gjøco AS.
If your terrace has been stained or oiled before, you must start by removing what is left with the Terrace Cleaner. The exception is when you have used Herregård Oil-based Terrace Stain and will use the same again, then it only needs to be washed with Kraftvask.
– You can clean the terrace at any time, even when it is raining, because the surface must be moist. Apply the patio cleaner, let it work for as long as possible without drying, first use the patio scrubber and then rinse well with the garden hose.
Larsen believes that the terrace scrubber and garden hose are often better than the high-pressure washer, the high-pressure washer can chip the wood more easily and have unsightly stains after cleaning. If there are several layers of oil or stain that need to be removed, he has an expert tip:
– Use a particularly effective patio cleaner with gel consistency. Roll or brush it on the patio, leave on, scrub and rinse off.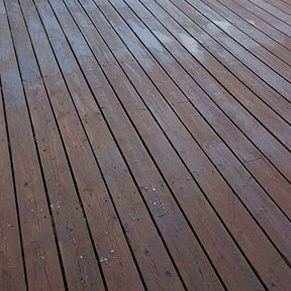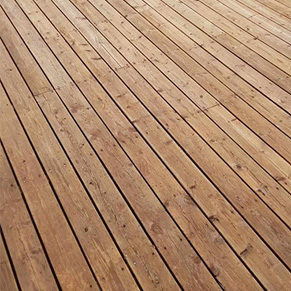 Check the weather forecast
You have made the terrace spotlessly clean, then it's just a matter of finding the stain – or?
– Through the washing process, you have added a lot of moisture to the material, so it is important that you let the terrace dry properly before you start staining, says Larsen.
– In early spring, when it is 8-10 degrees during the day and night frost, it can take over a week before the material is dry. When the weather gets warmer, it usually takes 3-4 days with stay-at-home weather and summer temperatures.
So you do well to check yr.no before you start. Remember that the weather gods must play on a team with you even after the pickling is done.
– If you use water-thinned stain, the substrate must be above 10 degrees for you to stain, oil-based stain can be applied down to zero degrees as long as it is dry and frost-free, the expert says.
Tips! Unsure of the weather ahead? Oil-based stain can withstand frost, as well as rain one hour after application.

The expert tips that ensure good results

A terrace stain should initially last for three seasons, but it depends on you being careful with the preparation and staining – and that you ensure that the terrace is well maintained.
– Wash the terrace every year, preferably with a mild house wash and a regular garden hose, to remove dirt and greenery, says Eirik Larsen, and ends with six expert tips for you who want the neighborhood's most beautiful terrace:
Manor house oil-based terrace stain does not need to be cleaned away when you want to stain again.
Maintained with washing and new coat as needed.
Oil-based stain can be applied with several thin coats to get a shinier result.
Be aware that too many and / or thick coats can lead to flaking over time.
One coat is enough if you use water-thinned patio stain. The stain should pull down into the substrate and not form a film.
Do not apply stain until the material is completely dry, as this may adversely affect durability.
Loose wood fibers after cleaning the terrace are easily sanded away before staining.
Always read the instructions for use on the back of the bucket before you start the job, here are useful tips and tricks for correct application and preparation.